In 2019, the global music industry had an annual revenue of 20.2 billion dollars. This was an 8.2% increase from 2018 and continued the pattern of growth the industry has seen in previous years. However, the 2020 COVID-19 pandemic has had a major impact on artists' revenue opportunities. 
   Generally, artists have two main sources of revenue, recorded music and live shows. Although streaming has had a big impact on many artists' total listeners, artists only make a small portion of money, often less than 1 cent, per stream. However, live shows typically make up over half of an artists revenue alone.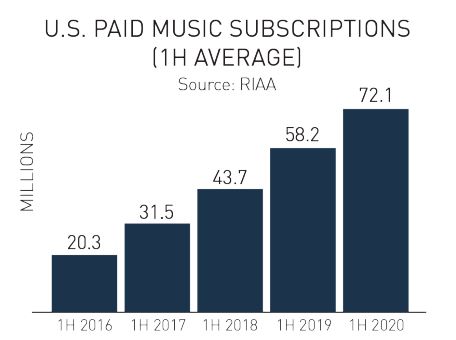 For example, the streaming platform Spotify pays creators an average of $0.00318 per stream. So, if an artist gets 1 million streams on a song, they only receive $3,180 from Spotify. However, if an artist performs a small show with 300 attendees and charges $30 dollars per ticket, they would make almost triple the profit. Considering many big artists sell out venues with thousands of fans, it's obvious that live shows are an essential part of an artist's revenue. 
   Since the pandemic prevents artists from hosting live shows, many artists have changed their approach. Some artists like Taylor Swift, John Legend, and Diplo  have tried live streaming their concerts through platforms such as YouTube and Apple Music, though most have simply decided to wait until live shows are an option to release new music. 
   Without new music being released, record labels have been making much less money off of their artists.This could prevent them from fully funding their artists or signing new ones. Since there has been a decrease in funding, they have also been forced to decrease their advertising, which limits the amount of streams and sales an artist gets from their recorded music. 
   In the future, once people are able to attend live shows, these labels and independent artists will be able to make more money again. But for now, expect to see less new music from the artists you love.