Hidden‌ ‌talent‌
How a debut novel came to be and how a student overcame her fear
Leslie St. James is an English teacher and author of her debut novel "The Sweet Scent of Death." 
    "I've been writing fiction for twenty years, and I decided it was time to make publishing happen," St. James said.
   St. James began looking for "literary" agents to publish her book in the fall of 2010.
   "The manuscript wasn't really ready, but I was ready to be done with it," St. James said.
   Despite her attempts, she was rejected each time.
   "I then revised it and made it better. It was a lot of trial and error," St. James said. 
   In the fall of 2019, an agent approached her with an interest in her book, but nothing ever happened. St. James then decided that she would publish her novel herself.
   "Ten years ago, I wouldn't have done it, but the industry has changed so much that self-publishing, or indie-publishing as they like to call it these days, is now a real option," St. James said.
   She entered her novel into a James River Writers and Richmond Magazine's Best Unpublished Novel Contest. It made the first cut.
"Then it became a semi-finalist, which was even more encouraging. Then it became a finalist, which was mind-blowing. And in September, the book actually won, which has been the greatest gift," St. James said.
   Even when a publisher showed interest last summer, St. James stuck with her idea of self-publishing and published her novel on Nov. 24, 2020, with the cover art designed by Molly Burton.
 "Now that I've done it, I'm very glad I did. Publishing pushed me out of my comfort zone and helped me to grow," St. James said.
   Her book formed from her experience working in television and public relations in her twenties.
   "I'm also a huge murder mystery fan, so it had to be a mystery," she said.
   In the next few months, she plans to come out with the sequel "Death of a Dolly Waggler" and has the idea for the third book in the pipeline.
   "All I want to do is write fun stories for people to enjoy," St. James said.
   St. James has some advice for young future writers.
   "Read a lot. The more you read, the better you write," St. James said."And don't stop writing. Don't give up. You can do it. That first novel sometimes feels like climbing Mt. Everest, but it does get easier."
   One of those writers that might benefit from St. James' advice is junior Blakely Wright, editor-in-chief of the Deep Run literary magazine.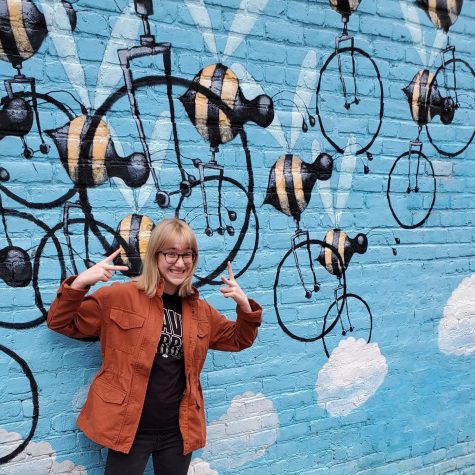 "Creative writing is currently a hobby of mine, but I hope to become a more skilled writer in the future and, eventually, publish a book," Wright said.
   Despite being a writer for most of her life, creative writing became something that she recently took an interest in. As a result, she joined the magazine in 2019.
   "The constant fears in my mind were, 'Will I be good enough?' 'What if no one likes what I make?' and so on," Wright said.
   It wasn't until she met her peers and the literary magazine advisor, Ms. Alcazar, that all her fears disappeared.
   "Their advice, creativity, and friendship is what drove me to want to publish my writing in the club and inspired me to one day share with the world what writing and art truly mean to me," Wright said.
   Being an editor-in-chief allows Wright to decide what to publish, along with other members, and to help with the final editing process and layout of the magazine.
 "I love to read other people's creations, and helping other people get their works of art out there makes me incredibly happy," Wright said.
   She takes a lot of her inspiration from different media like music, video games, movies, and even manga. 
    "Not all pieces of art have to be literature to tell a story, and I think that's my favorite thing about writing," Wright said.
So far, Wright has published two pieces, which were both in the literary magazine last year. She also released some art along with a literary club alumnus, Shannon O'Keefe; you can find their work at @shan.bee.art. Later this year, she is hoping to create a website or blog to share her photography, writing, and other art.
   To check out Wrights' pieces "Just up the Street" and "Autonomy," check out (Deep Run lit mag website).
   St. James's website is https://lesleystjames.com/ and her book is available on Amazon, Barnes and Noble, Apple Books, Google Books, and Kobo. It is available as a paperback or an ebook.
Leave a Comment