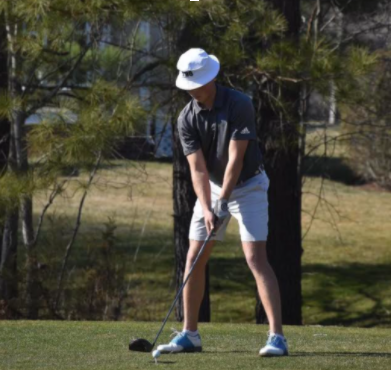 Year after year, the golf team has reigned supreme as the best team in the area, winning multiple state championships along the way. However, this year has been different. The team hasn't lived up to the high expectations that they set for themselves during this altered season. Coach Josh Aldrich said that the team has had a difficult time adapting to the adjusted season. 
   "They had been practicing a lot more in the offseason, but not doing too well so far with the season the way it is; many distractions," Aldrich said. 
   Despite some tough coaching, Aldrich said that he has been impressed with the team's desire to improve this season. 
   "I've been impressed with their dedication to get better," Aldrich said. "Younger players have been focused on working on their game."
   With this adjusted sports season, teams have had to make a lot of changes to the way they would normally practice and play. Aldrich said that the biggest difference from this season to others has been the amount of players on the team, and the quality of those players.
   "[The biggest difference has been] the depth of the team," Aldrich said. "We have a number of players who are good. However, we will need to continue to work to get to the Deep Run expectation level."
   As the team continues to battle the off-course distractions, they have continued winning, even if they aren't playing up to their level of expectations. The team recently became the Class 5 Region B champions, and competed in the state championship in Williamsburg on April 19. They ultimately fell short of their goal, as they placed 2nd in the state championship. However, many would say this was a successful season for the golf team, as they battled not only the other teams in the area, but they also battled and defeated COVID.