Duplexity: Senior Art Show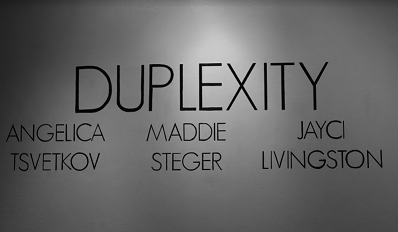 Hang on for a minute...we're trying to find some more stories you might like.
Before winter break in December, Maddie Steger, Angelica Tsvetkov, and Jayci Livingston made their artwork come to life as they held their very own senior art show: Duplexity. Michael Guyer, the instructor of Duplexity and one of the two Deep Run art teachers, said that he did not physically work on the pieces with the seniors. There is collaboration happening all the time in class.
"The critique system and consistent feedback that is innate in the arts causes each student's work to be a collaboration of his or her own thoughts and the thoughts of the instructor and peers. My job is to provide aesthetic guidance, suggest the study and investigation of successful professional artist of the past and present, and facilitate a classroom environment where peer feedback is an integral part," said Guyer.
In order to make the amazing pieces that are displayed, more than just feedback and collaboration go into the artwork. Guyer explained that the students have worked on each piece for an "uncountable amount of hours." It takes a great deal of time for the students to understand the foundation of the design, to build upon that knowledge using their own personal experience, and to understand the artistic concepts.
The work itself is very broad when it comes to medium. The artwork is anywhere from paper in graphite to mixed media collage on panel, acrylic on panel, or even a projected video.
Guyer influences students
Guyer has been working with the seniors for all four years. In fact, Guyer, himself, has been teaching art in HCPS for over 16 years now, being hired to work at Deep Run during its inaugural year. However, Guyer hadn't always planned to be a teacher.
Guyer's childhood included a sister who was a professional painter and designer. Not only that, his best friend's mother was also a highly successful professional artist. Having two evident mentors leading a creative, successful life opened his eyes up to the fields of the arts. He originally planned to be a professor of drawing and art history, but soon found out that high school teaching was his passion.