Basketball team wants to keep the pride of the program alive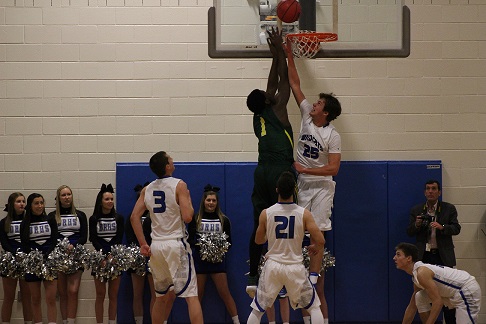 Hang on for a minute...we're trying to find some more stories you might like.
After last year's magical run to the state basketball quarterfinals, students and fans alike have high expectations of this year's team. There is quite a bit of pressure for the squad to live up to the hype of past years. However, Coach Justin Hayes and the team have a different approach to this season.
"The team is doing the heavy lifting for the very first time," said Coach Hayes. "We are looking to be our own team, with our own expectations."
The team is in its first year under Coach Hayes after former coach Kurt Kassab stepped down after leading the team to an incredible 25-5 record overall. With the team losing six players because of graduation, four of whom went on to play in college, there was much adjusting that this year's team needed to do.
"There have been many adjustments and changes made," said coach Hayes. "Any time there is a transition, with change of power or president, there is going to be change. It will take time for these changes to take effect. We just have to be very patient."
The team's current record as of Dec. 14, is 2-3. This year's team captains are Mike McNerney and Zach Washburn. New additions to the varsity squad include sophomore Noah Lacy, juniors Jim Coulter, Tim Wetmore, J.P. Terrell, and Dominic DeModna, as well as seniors Christian Smucker and Aaron Wright.
Coach Hayes believes that returning seniors Mike McNerney, Kimani Donovan, Curtis Cooper, John Peaden, and Zach Washburn will have a great impact on the team through their leadership.
In preparation for each game, the team goes out and scouts the other teams to see what skills they possess, and then they prepare a game plan for that specific team that is gone over in practice prior to that matchup. While fans make a huge deal out of rivalry matchups, such as Godwin, the team does not prepare for those matchups any differently than another.
"We have lots of goals this season, but overall is to keep the pride of the basketball program alive," said Coach Hayes.
The team looks to improve their record as the season progresses and, hopefully, put together a season that can impress the student body and people around the area.