Contradicting county officials
Board of supervisors representatives disagree with reasoning provided by superintendent for delayed in-person learning
February 1, 2021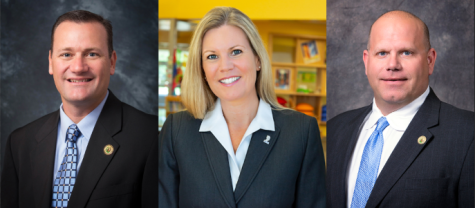 On Jan. 7, Dr. Amy Cashwell, Superintendent of Henrico Public Schools, released a statement announcing a delay in back to school plans. In the email,  Cashwell cited her reason for postponing the return as a response to the need of the school nurses in administering the COVID-19 vaccine during the newly implemented "Phase 1B." 
Phase 1B, according to the Virginia Department of Health, allows frontline essential workers, including school employees, persons aged 65 years and older,  people living in correctional facilities, homeless shelters, and migrant labor camps, and people aged 16 through 64 years with a high-risk medical condition or disability that increases their risk of severe illness from COVID-19 to get vaccinated.        
Several members of the Henrico Board of Supervisors rebutted Cashwell's claims during the first board meeting of 2021. Dan Schmitt, Brookland District Supervisor, was the first member to speak up about the supposed "real" reason why school reopening is being rescheduled. 
"The nurses helping with vaccination is not the reason schools will not be ready to open on the 25th," Schmitt said, after stating that the board had received multiple emails and calls from citizens about the school reopening schedule. He clarified that the percent positivity rate for COVID-19 is much higher right now and continuing to climb. 
Schmitt went on to say, that the nurses would be working outside of their contracted hours to help with the vaccination effort. Therefore, their schedules would not interfere with their duties at the schools. Schmitt made his message very clear. "Schools would likely not be prepared to open even if they had 100 percent of nurses back and ready to go," he said. 
The other member of the board to speak up was Former Chair of the Board, Tommy Branin. Branin did not go as in-depth about the issue as Schmitt did, but he did acknowledge that the statement presented by Cashwell was a misstatement. 
Originally, students were scheduled to return for in-person learning starting Jan. 25, with the last of the high school students returning on Feb. 4. As of now, it is unknown when to expect students to return to in-person learning. The currently approved vaccines, Pfizer-BioNTech and Moderna, take two doses that are administered several weeks apart. If teacher vaccination rates are a factor in the decision, this could lead to the school reopening being pushed back well into March, depending on the vaccine availability. This raises the question for many students whether it is even worth returning to school that late in the year.
The Henrico County School Board is expected to discuss and approve a new plan for the return to in-person learning at a special meeting Thursday, Feb. 4 at 1 p.m. 
---