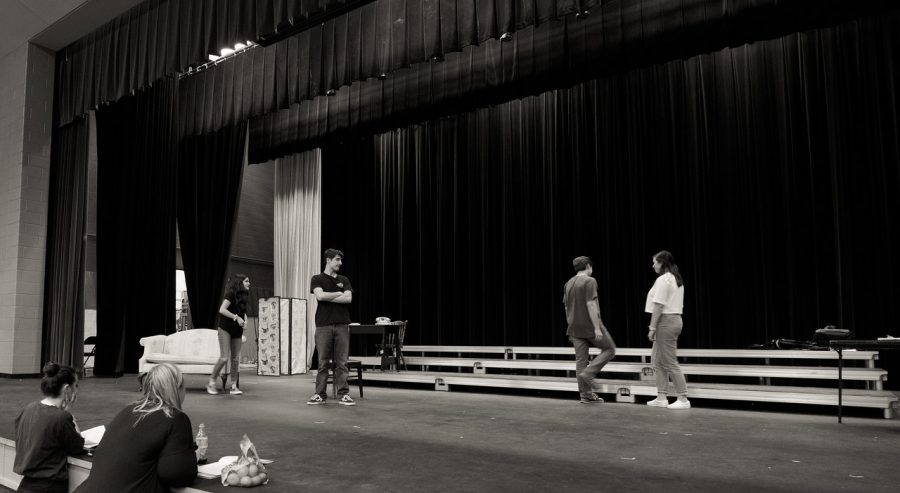 Photo courtesy of: Mike Pence
Intro to Theatre
How Gibson turned an interest into a program
Theatre, taught by Sheryl Gibson, isn't just for expert thespians. The multi-level program works with students based on their level.
   "We work on improvisation, character creation, acting technique, theatre history and appreciation, other forms of performance (puppets, dance, music, film, poetry, speech, etc.), technical theatre (set design, costumes, light, sound, make-up, stage managing), and directing at the honors level," Gibson said.
   Having always been a fan of theatre, Gibson was asked to help with the school play early in her teaching career. She found love in it.
   "I went back to school at VCU to get certified to teach theatre and started teaching it and started building the program here at Deep Run in 2002," Gibson said.
   Theatre is a full course of study from Theater I-Theatre IV with a Technical Theatre option. The goal of the class is to have a safe place where students can express their ideas and talents with no judgment.
   "Students learn about empathy and how to relate to one another through the theatre experience," Gibson said.
   This year, the program won't be able to put on any main stage, school-wide shows. Their one-act plays will be submitted virtually to the Virginia High School League (VHSL) theatre competition in the spring. 
   Along with Theatre, Gibson coaches Forensics. Forensics is an academic, competitive team where students can compete in one of ten different speech categories, competing all the way up to the national level. 
   This year, Forensics students will also compete virtually in VHSL and National Speech and Debate Association (NSDA) competitions. Gibson encourages everyone to join either program.
   "If you enjoy performing or especially if you don't, you will gain confidence and have some fun in the process," Gibson said.
   You can find the Deep Run Theatre Facebook page here.