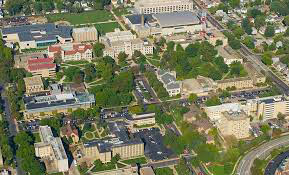 Photo courtesy of: Wikipedia
Longwood University
Longwood's diversity and offering of non-academic clubs has convinced junior Abby Moes to name the university as her dream school.
   "Just the environment seems great and all the activities," Moes said.
   Longwood piqued Moes' interests mainly for the environment she would thrive and have fun in. With an acceptance rate of 89 percent, the chances of getting in are better than average. Longwood also has a significant athletics platform as well. Its most notable sports are softball and field hockey. 
   Most students live on campus, due to the very pleasant dorms. While Longwood has much to offer for extracurricular involvement, it wouldn't be described as a party school. The town of Farmville, where Longwood is located, is small but manageable for those looking for a more close-knit, safe environment.  Of our recent graduating seniors in the class of 2021, at least ten are attending Longwood University. 
All comments posted will be reviewed before being published on our site.