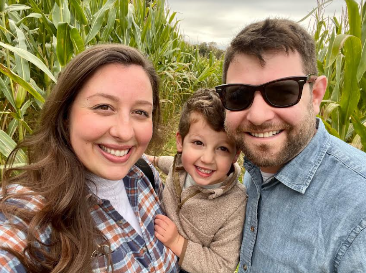 Wildcat Spotlight: Megan Steinheimer
Megan Steinheimer is a new English teacher at Deep Run this year. Steinheimer attended Virginia Tech for her undergraduate degree, before attending The College of William & Mary for graduate school.
   "I was an English major, which is kind of unusual for Virginia Tech. There are a lot of engineering, math, and science-geared majors," Steinheimer said. 
   She enjoyed her time at Virginia Tech because of the excellent professors, but most importantly, the large campus felt like home to her. According to Steinheimer, the experience she had at William & Mary was completely different from Virginia Tech, but the graduate school experience helped Steinheimer learn and earn opportunities to grow her skills as a teacher. 
   Steinheimer's passion for teaching started when she was a kid and only increased as she grew up. In high school, she was stuck deciding between teaching history or English. However, the incredible English teachers she had growing up inspired her to teach English.
   "I wanted to be a teacher for as long as I can remember, and my mom told me I would be an excellent teacher, which just planted a seed in my mind," Steinheimer said. 
Steinheimer is a veteran teacher, but has previously worked mostly at the middle school level. Coming to Deep Run presented a big change.
   "Previously, I worked for almost seven years as a middle school teacher, and I reached a point where I wanted to try something new for myself," Steinhiemer said. "It is very interesting to see the differences between what I normally teach. The content is more meaningful to me, and the books we are reading this year help me explore my passion for English more."
    Steinheimer is always ready for the next new thing, a trait that helped her prepare to overcome the challenges she would face when moving schools. She developed this strength when she moved frequently as a kid, which really helped her embrace new opportunities. Moving frequently also gave Steinheimer the ability to experience living on three different continents.
   Making this particular move has been a positive one for Steinheimer, and she has found that the community is full of people who have students' best interests at heart.