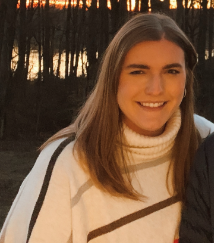 Photo courtesy of: Alexandra Fox
Wildcat Spotlight: Allie King
Newly hired calculus teacher Alexandria "Allie" King moved from Maryland to Virginia in order to pursue her teaching career at Deep Run as a calculus teacher. Although King started college as a computer science major, her sister was a math major, which inspired her to switch over and complete college on the path to become a teacher. King has found her career to be a more rewarding option.
   "I don't think I would've been happy in a career where I am just by myself all day. Obviously you collaborate with other people, but you never really get to see other people using what you made," King said.
King enjoys having interaction with her students and coworkers, but gets especially excited to teach complex concepts to kids that she feels like she can connect with. She feels she can create comfort when she helps her students to understand the concepts. After spending just five minutes with them, King says that their anxiety over the topic can be relieved, making a difference in both her life and the students.
King student-taught AP Calculus, making her transition to teaching on her own a little more smooth. As a new teacher, she also feels comfortable at the school working alongside other teachers who went to grad school with her.
   "I have two really great mentors, who are also teaching AP Calculus," King said.
   She feels connected to her students not just because of her age, but because she shares some of the same interests as them, such as social media. She also remembers what it was like to be in her students' shoes, which helps her approach teaching in a different way. When she was in high school, she was a girl who was often afraid to ask questions or reach out for help if she didn't feel comfortable in a class. 
    "I was always super anxious, especially in high school. Like I was always the kid who was terrified to ask for help. So when I had those teachers who made me feel comfortable, those are the classes I remember most from high school," King said.
   Now that she is the teacher, she values the importance of creating a comfortable environment for her students. It is her favorite thing to hear from students that she has made or been making that significant impact on them.