Kid Cudi's Man on the Moon III: The Chosen is new rendition of timeless sound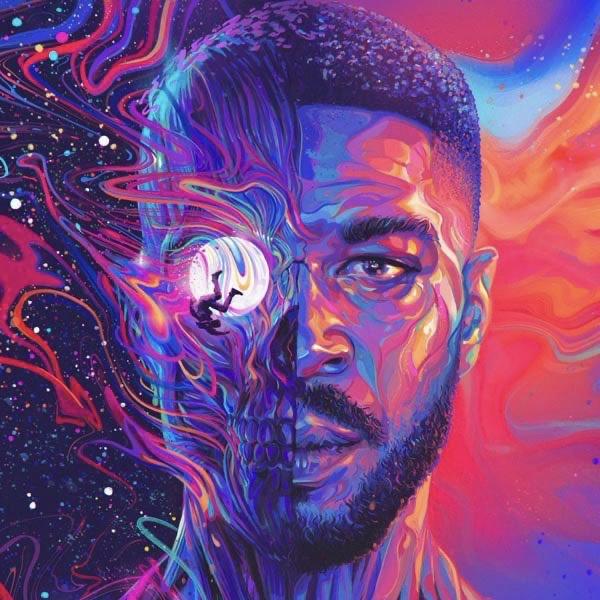 If you're a fan of Kid Cudi, you probably reminisce about late nights listening to "Day 'N' Nite" and "Pursuit of Happiness." But then again, if you're a Cudi fan, you probably have no interest in reading this review. Kid Cudi's music has always spoken for itself, regardless of critical analysis. But his track record is far from perfect. 
   Albums such as 2015's "Speedin' Bullet to Heaven" and 2016's "Passion, Pain & Demon Slayin'"  are mediocre at best and demonstrate Cudi's tendency to be a one-dimensional artist, especially in terms of his beats and subject matter. But with the release of 2018's "KIDS SEE GHOSTS," a collaborative project with rap star and mentor Kanye West, fans saw Cudi going back to his roots while still innovating the atmospheric, intoxicating sound he's known for, and the album received critical acclaim. 
   With the release of his newest album, "Man on the Moon III: The Chosen" in December 2020, fans were hoping for another step in the right direction, and they were not disappointed. A sequel to Cudi's first two studio albums, "Man on the Moon III" showcases his ability to recreate the timeless sound that made him famous but in a way that is new and refreshing. 
    Songs such as "The Void" and "Dive" demonstrate many aspects you can expect to find in a Cudi song. Simplistic, self-produced beats give Cudi a platform to pour his soul into the song, rapping about self-conscious topics such as struggles with his confidence and the numbness of an identity crisis. Buried under a mountain of reverb and delay, one could be convinced that songs like these were recorded back in 2010 when Cudi made "Man on the Moon II: The Legend of Mr. Rager." 
   But, that's not to say that Cudi doesn't try anything new. Songs such as "Tequila Shots" and "Another Day" feature similar beats, but show a new side of the rapper and singer, a side that's much wiser and much happier. One particularly notable song is the eighth track, "Show Out." Featuring the late Pop Smoke and U.K. legend Skepta, this track is a sort of meeting of the minds between two drill rap pioneers in their respective scenes. With the aggressive synths and pounding bass one can expect from a drill beat, these artists' lyrical styles fit perfectly, and Cudi barely manages to keep up. This song is totally unexpected, and Skepta's verse will have you rapping along no matter where you are. 
   The album has its flaws; some songs are so similar to his earlier music that it becomes too repetitive and fails to provide anything new. But I definitely think this is a step in the right direction for Cudi. He explores some new lanes in rap that I think will help him remain relevant if he continues to do so. If you like Kid Cudi, you will likely enjoy this album too. But if you have never listened to Kid Cudi, I would recommend listening to the first two "Man on the Moon" albums first before giving "Man on the Moon III" a try.