Field Hockey's hard work in offseason paying off amidst perfect run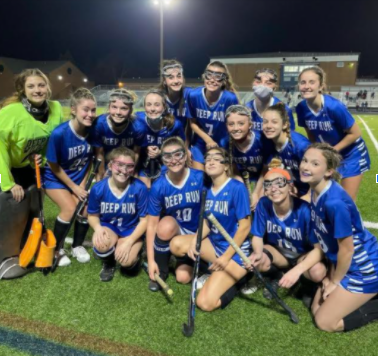 For the entire extended offseason, the field hockey team has been training for the start of the 2021 season. Due to the delayed sports calendar, the team had some extra time to get ready for their first game against Glen Allen on March 4. The team opened up the season with a 2-0 win, and hasn't lost since. The team finished the regular season with a perfect record of 8-0. The postseason started just a few days ago, and the team has already proven to be contenders, winning both of their playoff games against Freeman and Prince George. Coach Rachel Haislip said that there will be one key factor that will decide the fate of the team as they continue into the postseason. 
   "The girls have a goal to win the region tournament and go to the state tournament," Haislip said. "They are very focused on that goal, but also we are out here to have fun. When we stop having fun, we stop playing our best."
"
We are out here to have fun. When we stop having fun, we stop playing our best."
— Rachel Haislip
   Due to COVID-19 protocols, the team has had to make some adjustments to how they practice and prepare for games. Haislip is very proud of how the team has responded to these changes. 
   "They have been rockstars," Haislip said. "We are very focused on safety first because we want to be able to continue to play and finish our season. They have not complained one bit about any of the new rules or regulations."
   One of the team's shining stars through their first multiple games has been sophomore Ella Fallen. Fallen said that one of the biggest differences between this season and years prior is that the team hasn't been able to bond as much. 
   "The biggest difference is we can't go out and do team bonding because we have to be six feet apart and have masks on," Fallen said. "Last year we went on a ropes course and then we went to lunch after, and this year we can't do fun things like that."
   With how different the landscape of this season is, many athletes from all levels have had to adjust how they prepare for their seasons. However, Fallen never changed her plans to get ready for the season. 
   "I took on the season like I would do any other season, I went to the gym every day," Fallen said. 
   One of Fallen's teammates, junior Ella Burns said that the biggest difference from this season is the amount of games that the team will play prior to the playoffs. 
   "We normally have a 16 game season and then we will go into the postseason," Burns said. "This season, we have around a 10 game season and then we go into the postseason." 
   With the regular season out of the way, the field hockey team will make sure to keep a steady focus as they adjust to the new season and prepare to make a deep playoff run.