Review: Olivia Rodrigo's "Sour" album is bittersweet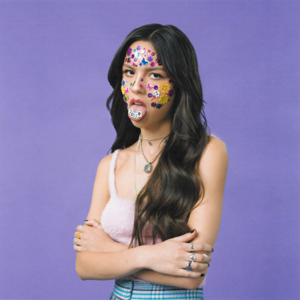 The 18-year-old American artist, Olivia Rodrigo, recently released a new album titled "Sour" in May 2021. It consists of eleven tracks, including "happier," "good 4 you," " hope ur ok," and more. Rodrigo was originally known for her hit Disney and Disney+ tv shows, such as Bizaardvark and High School Musical: The Musical: The Series. However, she has now made her place in the professional music world by smashing records as her debut album topped all the charts for weeks on end. 
  Rodrigo signed a record deal in 2020 with Interscope Geffen A&M Records. Her most well-known song is "Drivers License." It's an emotional song about a girl and a guy who recently broke up, with the girl wistfully remembering all of the plans she and her ex had and angrily mourning his ability to move on from their relationship. The single was an immediate hit when released in January of this year. 
The next single that was released is "deja vu". It has already managed to become a really popular song on TikTok and is a standout on the "Sour" album. It has a really smooth beat and it's flowy.
  The first song on the "Sour" album is called "Brutal." When you first hear it you're most likely to think of a rock band because of its grungy sound. The second half of the album includes more pop radio-friendly songs such as "happier," which is about a girl who has an ex with a new girlfriend. It gives me Eiffel Tower or Paris vibes. Rodrigo completely changes the sound again with her next song "jealousy, jealousy." It's really catchy and sounds like something you'd hear in a retro or teen store like Hollister. 
   Another song on the album is "1 step forward, 3 steps back." It gives off a sad vibe like maybe someone tragically in love or sad. It's about someone who keeps taking steps forward in life, but always reaches a point where they get pushed backward.
  This album is really a break-up album through and through, but Rodrigo's experimentation with different sounds makes for a layered listening experience that never gets old.