Review: "You" Season 3 struggles in suburbia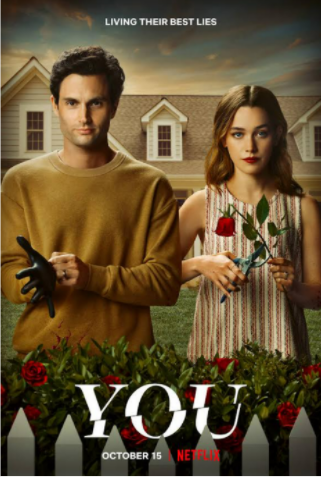 "You," starring Penn Badgley as Joe Goldburg and Victoria Pedretti as Love Quinn, released a third season on Netflix on Oct. 15.  After a few weeks, the thriller had already scored 92 percent approval rating on Rotten Tomatoes.
    For those who haven't become obsessed with the show already, the plot of the first season is about a bookstore manager from Brooklyn, New York who has a dark past. He falls in love with an aspiring author named Guinevere Beck, aka "Beck," played by Elizabeth Lail. As he falls deeply in love with her, he starts to take extreme measures, but that's just the beginning of the story. The second season starts off with Joe moving to Los Angeles to get away from his murderous habits and his raging ex, Candace Stone, played by Ambyr Childers. That's where he meets Love Quinn, who unfortunately for Joe, has a dark past as well.
   Audiences and critics alike have largely praised the show since the first season.
   "Bravo to the writers, producers, actors that have been cast […]to bring to life a narrative that is effortlessly amassed. A mysterious, dark, romanticized series that's engrossingly entertaining in an oxymoron/contradicting sleuth of emotional coasters…the writing intelligible and vividly fascinating," reviewer Peter J. Kim said.
   Season two gained the show even more fans among Netflix viewers and critics.
   "You knows exactly the nature of its beast–and not only gives us an entertaining thrill ride with season one, and ups and the ante for a remarkable season two, but also writes its character and plot in such an amazing and clever way," said reviewer Neen Bean.
    Viewers begin season three in the suburban neighborhood of Madre Lindain, San Francisco, Ca. Love and Joe have gotten married and had a son, Henry Love-Goldburg. Joe and Love seem to be striving for personal growth and a healthy relationship, for their son and their new marriage. That is until Joe becomes infatuated with his boss, Marienne Bellamy, and his neighbor, Natalie Engler. 
    This season allows Love Quinn to really show her true raging colors that we never really saw in season two. 
     By the end of season three, "You" offers up even more plot twists, suspense, and dark secrets than you would even imagine. I would rate the overall show and third season a 5/5 because there was nothing but mystery and crime, but also allowed viewers a new and interesting point of view on the usual thriller genre.