Students share their 2021 'Wrapped' playlist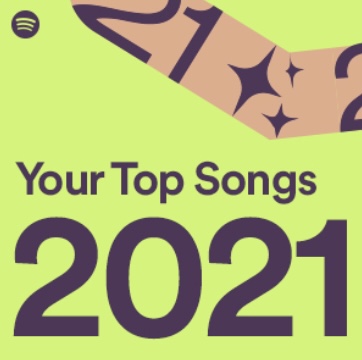 As it does every year on Dec. 1, Spotify released its app users' most listened to songs and artists of 2021. Some people weren't surprised while others were disappointed in their music taste. 
   "I thought my Spotify Wrapped would've been cooler," junior Kinsey Gore said. 
   Students were asked to complete a survey of  their top three songs and artists of the year. The survey concluded that the majority of those who participated listened to The Weeknd, Taylor Swift, or Machine Gun Kelly, though none shared the same top song as the other participants. 
   We can also deduce from the  survey  that most Wildcats are listening to pop and rap music on the Airpods they think they're concealing in class. This seems to be similar to trends across the country. Popcrush reported that the most common artists to appear on playlists were Bad Bunny, Taylor Swift, BTS, Drake, and Olivia Rodrigo. Though Bad Bunny was the number one artist of 2021, Billboard released a global Spotify 'Wrapped' playlist that suggested the most listened to song was "drivers license" by Olivia Rodrigo, which tallied 1.1 billion streams worldwide on just Spotify alone.  
   We've included a list of some of the songs that topped students' playlists below along; we spy a few classics in there. Scroll all the way to the bottom to find a link to The Sentinel staff's own 2021 Wrapped Spotify playlist. Happy listening, Wildcats! And an even happier winter break! 
Fourth of July by Sufi

I Feel It Coming  by the weeknd

Gold Rush by Taylor swift

Heatin Up by Lil Baby

Hedgehog's Dilemma by Shirō Sagisu

Forget Me Too by Machine Gun Kelly ft. Halsey

Radio by Lana Del Rey

Sandstorm by Mereba and JID

Ready by Gunna

Stereo Hearts by Gym Class Heroes

3005 by Childish Gambino

Jackie and Wilson by Hozier

W.O.R.K. by  KAAN

Love Will Tear Us Apart by Joy Division

Arabella by Arctic Monkeys

Peek-a-boo by Red Velvet

That's What I Want by Lil Nas X

Die For You by The Weeknd

See You Again by Tyler the Creator

Ivy by Taylor Swift

True Faith by New Order

Forgot About Dre by Dr. Dre and Eminem

Break from Toronto by PARTYNEXTDOOR

Good Days by Sza

Friday by Riton