Wildcat alum accomplish athletic goals in college
Deep Run has had its fair share of great athletes graduate from our high school, but there are two recent players that stand out in that long list. Michael Wright, a sophomore volleyball player at Ohio State University, and Miles Ellis, a freshman football player at Virginia Tech, now both play Division 1 sports. 
   While still relatively new to the team, Ellis has already felt pure amazement while playing at the collegiate level.
   "My experience playing at Tech has been one of a kind so far. The level of weight the football team carries around Blacksburg is first to none," Ellis said. 
   Ellis has had to deal with the immense pressure of representing the team as a first-year student, but he has managed to do so with a lot of hard work. The change in skill level and competition at the collegiate level came as a bit of a surprise.
   "The jump from high school to collegiate was a little crazy," Ellis said.
   His time at Deep Run helped him prepare for these challenges. Ellis got a glimpse into what college football would look like while playing against some of the best in the state. 
   "My time at Deep Run gave me the competition base around me, such as Highland Springs, Varina, and Manchester, to help me prepare me for the D1-like talent," Ellis said.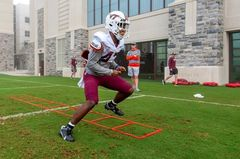 While, playing football provides plenty of physical challenges, balancing academics with team commitments is another challenge student-athletes must face. Ellis has managed to keep up with academic work while still maintaining a great drive for success on the football field. 
   "It's been rough and very stressful managing both academics and sports, but I have done both very well. It's part of the job to manage both the on the field and off the field aspects of it," Ellis said. 
Part of what keeps Ellis motivated is the fact that playing in college is such a long-held dream.
"I decided to compete at the D1 level after I received an offer [from Virginia Tech] that had changed my life. I knew instantly that it was all I wanted, and I had been dreaming about this since I was a kid at the age of four," Ellis said. 
  Now that he's made this dream come true, Ellis continues to strive for the bigger goal of playing in the NFL. 
   "The NFL is the final goal, so I definitely will want to compete past the collegiate level," Ellis said.
   Another Deep Run alum playing collegiate sports is Michael Wright, who plays volleyball at Ohio State University. Wright didn't start playing volleyball competitively until late in the eighth grade, which shows the hard work he had put in to reach the level he is at now. 

 Wright's first season in the D1 program was during the height of the pandemic, which led to his season ending early, but it was still a valuable experience, according to Wright.
   "First year was pretty cool, and it was cool to just be the young guy out there," Wright said. 
   While Wright was only a freshman, he still managed to be one of the starting six at one of the best volleyball programs in the country. Along with that impressive accomplishment, Wright was named a "Freshman All-American" by "Off the Block," a college volleyball news source.  
  While at Deep Run, Wright contributed to the team's back-to-back state championships in 2017 and 2018. He feels that the Deep Run coaching staff was instrumental in preparing him for the collegiate level. 
   "I was pretty close with [head coach Kevin] Pond, so we had a close personal connection that made the game come easier to me," Wright said. 
   Playing for one of the best high school volleyball programs in the state provides players with an enormous amount of experience that can correlate to playing at a school like Ohio State, even with the tremendous change in competition. 
   Both Wright and Ellis worked tremendously hard as Wildcats to achieve the accomplishment of playing a Divison I sport. The Deep Run community will just have to keep cheering on these athletes as their respective careers continue far from Short Pump.