What you need to know about Marvel's 'Moon Knight'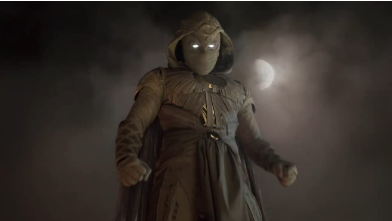 Another immediately popular Marvel show, "Moon Knight," was released on Disney+ on March 30. This show is based on the original Marvel comic written by Doug Monech and Don Perlin. Marvel fans everywhere were stoked when this show was released to Disney+. 
   This show is about Steven Grant, who works in the Egyptian part of the museum gift shop. He suddenly gets diagnosed with an identity disorder and discovers that he shares his body with a mercenary. The mercenary is Khonsu, Egyptian god of the moon. The twist is that Grant doesn't know who exactly he's sharing his body with.
   The mercenary takes control of Grant's body whenever he is in a dangerous situation. Steven will black out, and when he gains consciousness, he sees what his "other half" has done. When he has to fight off villains, he is the only one who can see them. Everyone around him thinks he's hallucinating. 
   The show goes on with Grant continuing to figure out why this is happening. Ever since "Avengers Endgame" came out, Marvel has been releasing new shows and movies due to the lack of characters in the MCU. 
   This show has been truly entertaining to Marvel fans around the globe. This has been a wonderful show to keep up with. Going into it, I wasn't expecting to love it as much as I do. I find this to be one of the best Marvel shows I've seen. It's action-filled and keeps you on your feet. The acting is amazing, Oscar Isaac plays Grant so well. They truly couldn't have cast anyone better. Look for episodes on Disney+.