Girls tennis finds success before falling to season-long foe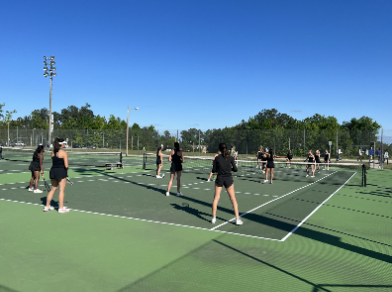 The girls' tennis team finished their final regular season match on May 17 against the Maggie Walker Dragons. With the regular season wrapping up, the Wildcats were already preparing for regionals and states. The team felt a sense of exhilaration as they anticipated their first regional matchup.
   "I'm feeling excited about regionals because I think we are going to do great as a team and work really hard to make it to states," junior Sanju Derakumaran said. 
   Collectively, the team has captured major wins against opponents like Glen Allen, Godwin, and Cosby.  The team was not able to pull off an upset against Freeman in the regular season, but the team did compete well in the match and got the opportunity for a rematch in regionals. 
    "Freeman is our biggest opponent this season because they are the most evenly matched with us. While they do have a really strong team, I believe our team is just as strong, if not stronger," sophomore Samantha Sullivan said. 
   The team fell to Freeman Mavericks in the regional finals; however, a recent change to the VHSL state competition this year allowed two teams will move on to states, so the Wildcats moved on to the state tournament.
     Although consistency is a focal point for preparation, the team has learned that in order to play well, you must be mentally ready. Team players have continued to make sure their connection is strong, by doing ice cream runs to Ray's or team dinners after practice. When the team believes that they can win it all, it shows on the court.
   "We have been practicing hard every day working on consistency, mental toughness, and overall fitness with conditioning, such as footwork drills, and just in general endurance training," Sullivan said.
    After  this season, the team will lose five graduating senior players: Peyton Wisor, Alexandra Perkins, Monet Enters, Ashley Hair, and Lily Beverly. The team recognized the hard work and dedication those seniors have given to the team by celebrating them at a Senior Night match against Hermitage. 
   "I will miss all of the close bonds I have made with the seniors, other teammates, and coaches during the season," Sullivan said. 
   While the season has had its share of successes and struggles, it has been a meaningful experience for all who were involved.
   "Something I will miss about the team is getting to play with all the girls and cheering them on," said junior Varna Sunkara.
   The team beat Albemarle High School in the first round of the state tournament before falling again in the state quarterfinal to Freeman, their toughest opponent this year.