Fit check: Wildcats dress their best at prom
Prom: a wonderful night that juniors and seniors get to enjoy dancing, singing and bonding with their peers. There's the dancing, pictures, after-parties, and most importantly, the fits. Everyone this year did a great job showing out for prom, so the Sentinel wants to give you a look at some of our fashion faves.
   Starting off, there was junior Eyaya Fletcher in a gorgeous flowy blue dress with a slit up the leg and ruffles along it, accented by white heels. Escorting her was junior Victor Smith, wearing a tan suit with a blue dress shirt that matched Fletcher's dress, paired with white sneakers.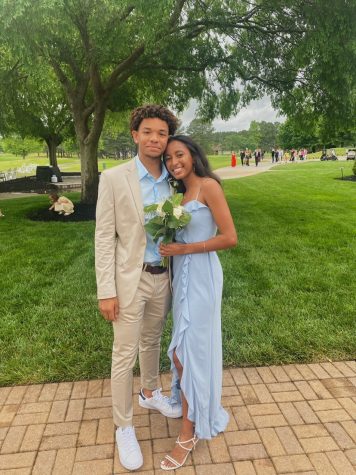 Junior Maddyn Stout rocked a long, light pink dress with a high slit and white, strappy heels.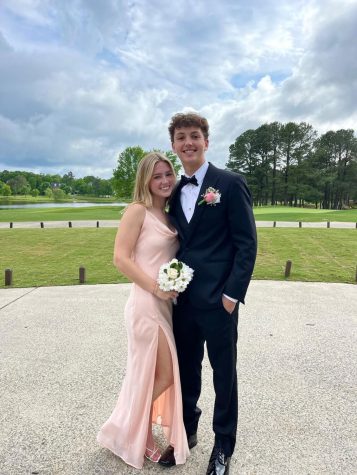 Sophomore Helen Hahn wore a silky purple dress with a tie-up back and champagne colored heels. We really love how she chose a simple, yet classy and eye-catching look.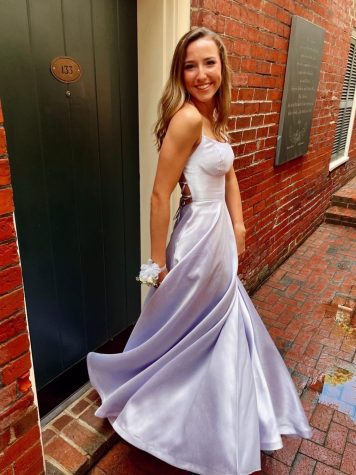 Senior Claudia Halloran wore a dark green dress with a deep v-neck, and junior Dairam Ferrer showed off in a gorgeous velvety, red floor-length dress accompanied by black heels.  
   As for the fellas, junior Lindwee Manning wore a blue tux with a blue checkered shirt and brown dress shoes. Junior Tyler Messinger, on the other hand, went the more traditional route with a gray tux. Sophomore Shaan Patel showed up in your traditional black tux, but put an all-black spin on it. (Manning, Messinger, and Patel pictured in center of group photo below).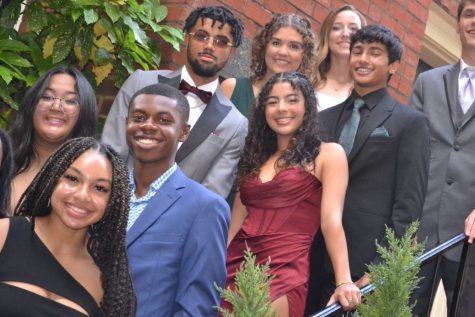 Junior Kamille Atkins didn't come to play; she wore a floor-length blue dress with a lovely and elegant pattern. Senior Elisa Smith rocked an asymmetrical black, floor-length with strappy pink heels (pictured in front of group photo below).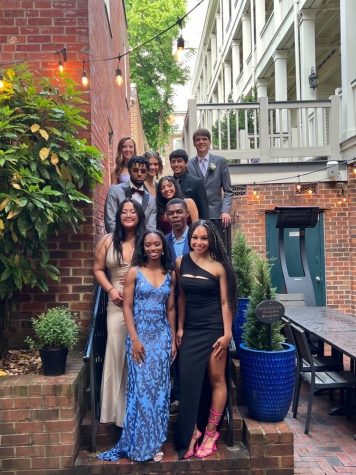 Senior Anaya Harris was shining in a glittery champagne dress, while junior Ajanae Tyner wore a blue sparkly dress with a v-neck and spaghetti straps.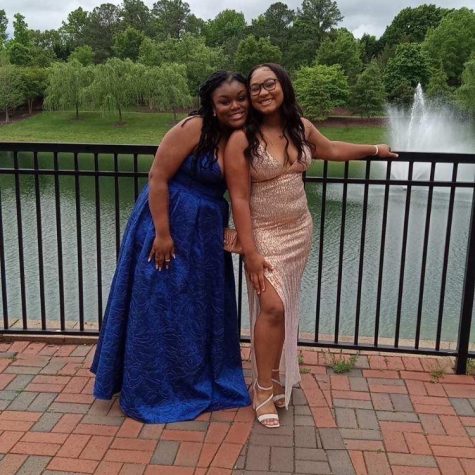 And there you have it, the prom night looks that rocked the Hippodrome this year.