Review: Does "Black Panther: Wakanda Forever" live up to expectations?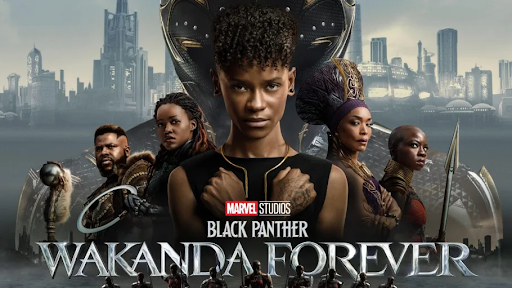 The long awaited "Black Panther: Wakanda Forever" has finally hit theaters. Another action packed Marvel Cinematic Universe film, directed by Ryan Coogler,  it follows the story of the original "Black Panther" (2018) movie. From its stunning scenery to its sensational acting, "Black Panther: Wakanda Forever" has lived up to high expectations set by the success of the first installment.
   In the first "Black Panther" film (2018), T'challa, played by Chadwick Boseman, returns home to Wakanda after his dad passed away in a tragic accident. T'challa is later crowned king of Wakanda, but the film centers around the conflict he soon faces with something that will challenge his power to be king— and a Black Panther.
   "Black Panther" is known for its incredible story and illustration of the culture of the city of Wakanda. Making a sequel to follow "Black Panther" (2018) is an incredibly hard task, as it was the top grossing movie of its year, but the new film surpasses expectations.
   The audience will encounter familiar faces as well as new ones too. Namor, played by Tenoch Huerta, brings a new effect to the movie. Huerta's character allows Aztec culture to make an appearance in "Wakanda Forever." 
   Wakanda's power is tested once again and this time it is up to Princess Shuri, played by Letitia Wright, to keep Wakanda strong. Wright, Angela Bassett, and Danai Gurira are shimmering in their roles once again. They left the audience speechless and delivered amazing dialogue and monologues throughout the movie. The performances felt extremely personal, and overall the acting was amazing.
   By the end of the movie, "Wakanda Forever" offered emotional scenes, plot twists, heartfelt moments, and so much more. Overall, this movie was very powerful and moved me because of all the emotions that it sparked. I highly recommend it for all viewers.