Review: Like ticket sales, Taylor Swift's "Midnight" falls short of expectations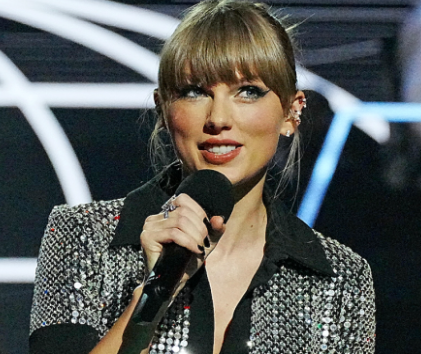 On Oct. 21, Taylor Swift's album "Midnight," was released appropriately at midnight. Swift then added seven more songs to the album at 3 a.m. The songs on this album give flashbacks of romantic indignities, as well as sharing with the listener what it's like being in the spotlight and the impacts of her fame.
   "So I've been scheming like a criminal ever since/to make them love me and make it seem effortless," Swift sings in her song "Mastermind."
   In these lyrics, Swift portrays her own villain origin. She sings too of her much-discussed romantic past, "They're bringing up my history/but you weren't even listening."
   "Lavender Haze" is Swift's first song on the album. It acts as a callback to her previous song "Delicate" from the album "reputation," in which Swift sings about being ignored and looked over in her past relationships. She has spoken in interviews about how powerful the message of Lavender Haze is and how it's a blessing to have "Lavender Haze."
   "If you were in Lavender Haze, then that meant that you're in all-encompassing love, and I thought that was really beautiful," Swift said.
   Swift's additional "midnight" tracks that were released at 3 a.m. included "The Great War," "Bigger than the Whole Sky," "Paris," "High Infidelity," "Would've, Should've, Could've,"  "Dear Reader," and "Glitch." Swift's 3 a.m. edition is very similar to her previous album "Lover." 
   "I have this thing where I get older, but just never wiser" Swift sings in the song, "Anti-Hero," the most listened to song in the album. It expresses Swift's anxiety and insecurities throughout her private and public life. Swift has said publicly that this song is her favorite on the album because it shows the honest truth about her existence. Personally, I think this song is overhyped and has weird lyrics throughout it that make no sense.  
In the song "Snow on the Beach," Swift collaborates with the famous singer/songwriter Lana Del Ray. Swift says this song is about falling in love with someone at the same time as they're falling in love with you, singing "Flying in a dream, stars by the pocketful/You wanting me, tonight feels impossible." I did not really enjoy the sound of this song, but I think the message behind it is really meaningful and beautiful. It starts off with almost Christmas-sounding music; however, it never rises or ascends, and it seems like more of what Del Ray would usually sing and not Swift.
   While I'm a fan of Swift's music, I wasn't a big fan of the new album and I definitely had higher expectations. It had some questionable lyrics and there weren't any songs that really got to me. However, I still always enjoy listening to Swift.
Taylor Swift is returning to tour in March 2023 for the first time since pre-pandemic. Fans rushed to buy tickets after the announced dates and venues, but were devastated when prevented from buying tickets through Ticketmaster. Ticketmaster claimed that 14 million people were on the site trying to buy tickets, and that's why the website was crashing, keeping fans from purchasing tickets. Fans waited for hours just to be disappointed when the site closed ticket sales.