English teacher receives "Teacher of the Year" award
Oli Blaess, Culture & Entertainment Editor
December 13, 2022
Melissa Daniels, a beloved ninth grade English and 12th grade AP Literature and Composition teacher, recently received the 2023 Deep Run Teacher of the Year award. 
   In addition to teaching,  Daniels is a founder and co-sponsor for the Deep Run Writing Center, which is an extracurricular organization dedicated to helping students improve their writing skills. She also co-sponsors the Poetry Out Loud event, where students are encouraged to memorize and recite poetry as part of a public performance. Leading such popular and helpful organizations has helped her become very well known within the community, both among students and her colleagues on the faculty and staff.
   To be nominated for the award, teachers must have taught for several years in order to be qualified. Teachers within the school community nominate their colleagues with a summary of their accomplishments and achievements in and out of the classroom.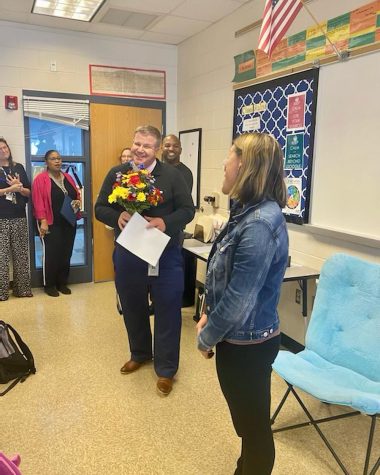 "It's a nomination process where other teachers nominate a teacher for the award and the leadership team at the school also helps make the decision," Daniels said.
   If nominated, the selection committee looks over the nominations and announces their decision to the staff.
   Daniels was surprised by the award, given what she feels is stiff competition at the school. 
  "I feel very humbled and grateful because the Deep Run faculty is just incredible, and I feel really grateful to work with so many amazing teachers. In my mind, every teacher is teacher of the year," Daniels said.