The Met Gala: Celebs pay tribute through fashion
The Met Gala is a charity event for the Metropolitan Museum of Art. It is considered one of the most anticipated events of the new year. This year's Met gala was a little different, as it was a continuation of the Met Gala event in September 2021. The 2021 theme was "America: A lexicon of Fashion." This year's theme was "In America: An anthology of Fashion." Contrary to popular belief, Gilded Glamor was not the theme, but the dress code.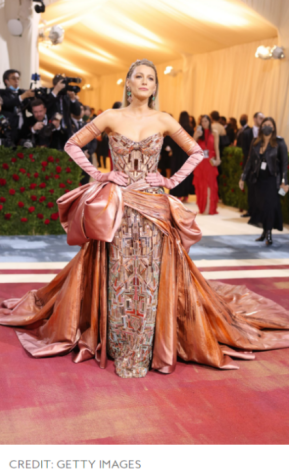 One of the two most talked about looks was the event's co-chair Blake Lively and one of the Kardashian-Jenner sisters. 
   Blake Lively was dressed in Atelier Versace and her outfit was inspired by New York City architecture. When Lively arrived, her dress was a copper color. The dress pays homage to the Empire State Building's architecture. The crown she wore is similar to the one worn by the Statue of Liberty and represents the seven continents and seas.
The dress sported a giant bow on her hip, and when the bow was untied, a teal color skirt appeared, representing the oxidation of the copper statue. The transformation represented the pinnick oxidation of the metal. The train of the new sk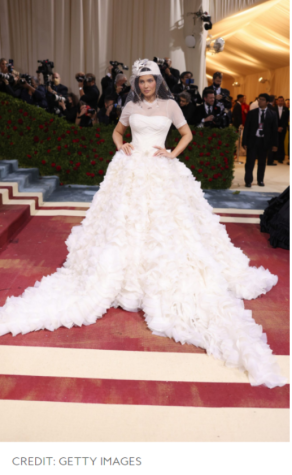 irt had constellations similar to those seen on the ceiling of Grand Central Station. With the two looks in one, Lively stole the carpet with her two-in-one dress.
   In contrast to the co-chair, Kylie Jenner sported a white ruffle wedding dress to the 2022 Met Gala, and the outfit stirred some conversations. The star, dressed in Off-White, told the public that her dress is a tribute to the founder of the fashion brand, who passed away in 2021.
   The skirt was a white ruffle paired with a mesh t-shirt that covered the bodice of the dress. Unlike Lively's crown, Jenner repped a white, backwards baseball cap with a veil attached to it. The meaning behind the dress was sentimental to the star, and despite backlash for not matching with the theme or dress code, Jenner did not care and wore it with pride.
   Both women are always in the center of fashion and always stealing the spotlight at the Met Gala. This year, in different ways, the two women stole the red carpet and led another successful Met Gala into the history books.